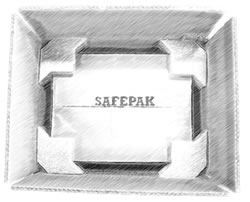 At Advanced Packaging Materials we don't just produce packaging for the Brewery industry we also manufacture protective packaging used to transport product thought the world. By using a combination of our protective packaging material and corrugated board we have developed boxes designed for courier use, which hold 500ml and 330ml bottles.
These SAFEPAK boxes exceeds the Amazon drop test for glass products.
Follow the link to see the box tested.
The outer box is double walled board with foam inserts to hold the inner box which is another double walled box with dividers to prevent the bottles clashing together. Foam inserts are placed at the top of the box to secure the inner box and cushion any shocks making this unique packaging for the brewery industry.
The 500ml inner box is designed to hold the two most popular bottles sizes (69 x 250 & 72 x 225).